HEREFORD LIONS HELP MARLEY GET ON HIS BIKE
Marley George has cerebral palsy and can't walk, but the 18 year old is able to ride a specially designed trike and Hereford Lions Club has bought him one as an early Christmas present.
The £3,000 machine will not only help him strengthen his leg muscles and stamina , but give him the opportunity to go for bike rides like other youngsters. Said Marley: " I could not have wished for a better present. Its cool."
Club president David Hartland said: "It is our privilege to help Marley achieve one of his ambitions and seeing the happy smile on his face when he took his first trial run made it all the more worthwhile."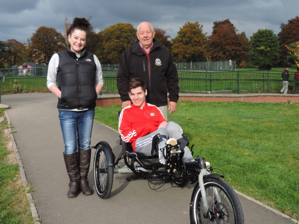 Picture: Marley 'gets on his bike' watched by Lion David and his mum, Vanessa

LIONS HELP TACKLE MENTAL HEATH CRISIS
The club has responded to a shocking report that 1 in 10 children and teenagers are risk of suffering from mental health issues by giving MIND, the local mental health charity a £5,000 grant to set up a therapy service in county schools and youth clubs to tackle the crisis.
Club president David Hartland said: "The report made grim reading and we wanted to help the 500 county youngsters believed to be at risk."
Richard Kelly , Executive Director of MIND said: "This grant from Lions Club could not have come at a better time. There is no public funding for early intervention in the field of mental health. We had already recognised the need for a support service in schools and youth clubs to help young people showing signs of mental health problems but lacked the financial resources to set it up."

BEST EVER BALL
An Autumn Ball staged by the club, including a charity auction raised £10,000 for St Michael's Hospice. The ball at Lyde Arundel was attended by 200 guests and was declared to be the best ever organised by Lion Mike Hughes and his team on behalf of the club

The 23rd annual edition of Hereford Lions Festive News, a 48 page full colour newspaper distributed free to 30,000 homes in and around the city was published in November which also saw the start of the club's Santa Sleigh run and its Santa's Grotto at Wyevale Garden Centre which attracted 10,000 visitors last year As usual the club ends the year on a high with a sell-out New Years Eve party. Contact Lion Keith Martin (01432 358362) for tickets. Festive News is available here

NEW LEADER FOR LIONS
The new president of Hereford Lions Club is David Hartland, a retired city businessman who also served in the role back in the new Millennium Year.
He grew up in Peterchurch, trained as an engineer at Hereford Technical College and in 1973 with his friend John James founded the RSS company, today one of the foremost refrigeration , sales and service firms in the region. He retired in 2003.
He has been a Lion for 25 years and is committed to the ideals and dedication to community service which are the cornerstone of the international organisation which next year celebrates its 100th anniversary.
Mr Hartland has chosen during his year as club leader to support the work of the charity, MIND which provides vital help to those with mental health problems, and Lions will be raising funds for the charity to set up much needed new services.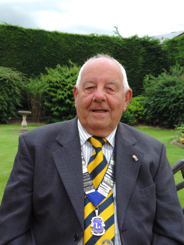 David Hartland


DUTCH HONOUR LION TONY
Forty years ago Hereford Lion Club stalwart Tony Cole organised the first Lions sponsored trip for local schoolboys to an international youth football tournament in the Dutch city of Vianen – and never missed a tournament for the next 39 years.
But he was missing from the 40th anniversary event earlier this year when the Mayor of Vianen, Wim Groeneweg announced Tony, a retired accountant who was recovering from cancer treatment, had been made a Freeman of the City in honour of his outstanding contribution to international youth football.
The Mayor of Hereford, Councillor Jim Kenyon on behalf of the Mayor of Vianen, presented Tony with his Freeman's medal in a ceremony at the Town Hall attended by fellow members of Hereford Lions Club. Over the four decades 2,400 local lads have had the experience of playing against other European teams thanks to Lion Tony's initiative all those years ago.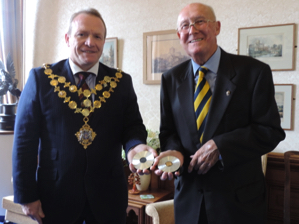 Mayor Jim Kenyon presents Tony Cole with his Freeman's award.
FAST CAR WISH GRANTED
Ten year old Christopher Gibbons loves fast cars but will never be able to drive one because he suffers from muscular dystrophy and relies on a wheelchair to get around. But his wish to go for a ride in two of the fastest cars in the world - a Lamborghini and a Ferrari -has just been granted by Hereford Lions Club.
Christopher lives with his parents Colin and Clare Gibbons and his brother Ben, 9, in Bartestree and last Christmas when the Lions Santa Sleigh arrived in the village he mentioned his passion for speed. One of Santa's helpers, Lion John Edmunds decided the ideal present would be a visit to a racing circuit near Cowbridge in South Wales which boasts a collection of Top Gear style motors . Said dad Colin, a Hereford fireman: "Seeing his smiling face when he got out of the cars was priceless. We can't thank the Lions Club enough for such a wonderful kind gesture"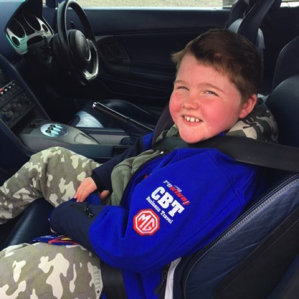 Christopher ready for his spin in a Lamborghini