FIRST LADIES FOR HEREFORD LIONS CLUB
Hereford Lions Club has signed up its first lady members. The pioneers of this former all male club are Sian Bayliss, a retired nurse and Celia Field also retired who was a drug awareness tutor to public sector organisations. Their husbands, Richard and Allan have also become members of the community service club which has played a key role supporting local charities since 1960. Two couples joining is also a first for the 40 strong club.
Said club president Ian Foster: "Women have an important part to play in helping the worldwide Lions International organisation, this year celebrating its 100th anniversary build on its reputation as a global community support leader, and Hereford Lions are delighted to welcome Sian and Celia as our first lady members.."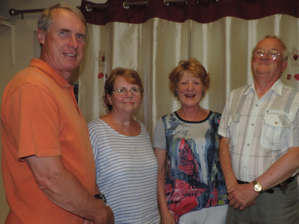 TROJAN IS NEW RECRUIT TO RIDING FOR DISABLED

Ian Foster's first official duty as the new president of Hereford Lions Club was to present a new horse to Herefordshire Riding for the Disabled at their Holme Lacy equestrian centre. Supporting the charity is one of his key aims.
Trojan is a seven year old handsome Welsh Cob bought by the Lions for £3,250 and who has already won the hearts of all those who benefit from the therapy of horse riding. Said Ian: "Lions bought a similar horse for the charity several years ago and Trojan's gentle nature makes him a natural companion for those with various disabilities. I, and my fellow Lions have been so impressed with the success of RDA that it was chosen as the first project of my year in office."
Rachael King, manager at the riding centre said: "Lions have long been generous supporters and the gift of Trojan, whose temperament is perfect for the role he has to play will have a huge impact on the service we provide for the disabled."
There are 11 horses and ponies at the volunteer centre providing riding therapy for 150 a week with ages ranging from four to 80.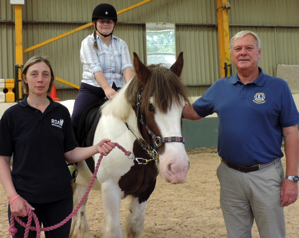 Ian Foster hands over Trojan to Rachael King and Jessica Jackson in the saddle who has already built a great rapport with the latest addition to the stables.


LIONS NEW LEADER
New president of Hereford Lions Club is Ian Foster who takes over as leader as Lions International, the world's leading humanitarian organisation celebrates its centenary.
The city club, itself founded in 1960 plans a number of special events to mark the 100th anniversary of Lions started by Chicago businessman Melvin Jones and today boasts 1.4m volunteer members in 46,000 clubs across 200 countries.
Said Ian: "Hereford Lions are committed to serving the community in so many ways, especially in this special year."
He started his career as a police officer in his native Leicester but later switched to banking arriving in Hereford in 1987 as branch manager of Lombard North Central PLC. Now 68 he is a qualified cricket and golf coach and is involved with the county cricket under 12's team.
His chosen charity for the year is Riding for the Disabled but he also plans to introduce special outings for young people and the elderly by taking them on trips in the club's mini-bus.
He and his wife Pauline live in Sutton St Nicholas and have two sons.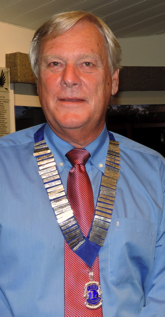 Ian Foster, New President of Hereford Lions Club