About Us
Hereford Lions Club meets on the first and third Tuesday of each month, 8pm, at Hereford Welsh Club (Hinton Road, just off the A49 heading for Ross on Wye, by Belmont Roundabout). Fellow Lions visiting the area are always welcome.
Chief Officers of the club are:
President: Ian Foster (pictured)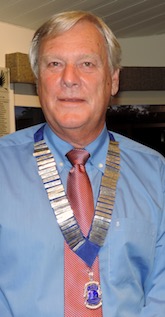 Secretary: Colin Smith
E mail chibnellsmith@aol.com
01432 350591
Treasurer: John von Anrep
Transport Officer: Ian Foster
01432 880816
Funding Raising: Terry Williams and Neil Jenkins
Community Support: Simon Swancott
01432 275301
Membership: Jim Hamilton
01432 354443



LIONS RECRUITING NEW MEMBERS
Hereford Lions Club has welcomed four new members into the club and wants to hear from anyone else who would like to join one of the most active community service groups in the region which offers fellowship and lots of social activity. The club meets twice a month at the Welsh Club The pages of this web site well illustrates just how active Lions is If you fancy being part of it contact Lion Jim Hamilton on 01432 354443 for a chat.