Golf Ball Drop

( Thanks to Bubble Productions Ltd)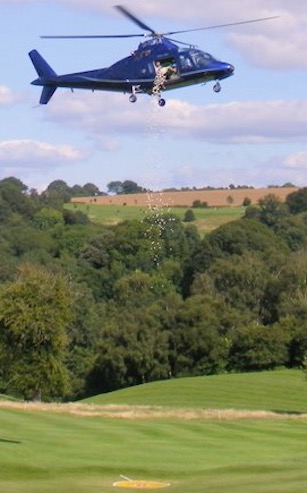 Sue Palmer holed in one at Herefordshire Golf Club, Wormsley on Friday August 7 2009 – and she doesn't even play golf!
Sue was the winner in Hereford Lions Club's unique fund raising venture, a golf ball drop from a hovering helicopter onto the green with the purchaser of the numbered ball nearest the pin taking the £1000 prize. One of 2500 dropped from the helicopter from Tiger Helicopters of Shobdon, Sue's ball actually landed in the hole.
As well as the cheque, which will be going towards a family safari holiday in Kenya next year, Sue, 51 and the administrator at St Martins School, gets to keep her lucky golf ball. "I have won small raffle prizes before, but never anything as big as this. I always support the Lions Club, who do such wonderful work for the community, and bought tickets for all the family, but it turned out to be my lucky day," said Sue who raced up to the golf club with husband Alan to collect her winnings from club president, Lion John Oldman and enjoy a celebration drink.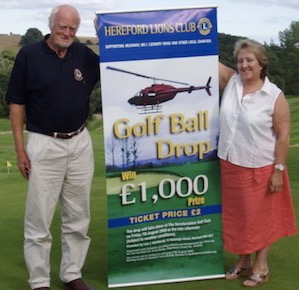 Pictured to the left is Lion President John Oldman with Sue Palmer who wins £1000 in Hereford Lions most unusual draw!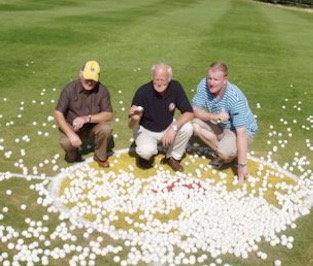 Pictured to the right is Mike Hughes, organiser, John Oldman, president and Jeremy the green keeper check out the golf ball nearest the pin.
If you have any unusual ideas for Fund Raising, click
here
to contact us.